Riding is a serious business for Theo Galy & Damien Oton. Training for the last EWS in Finale required the highest level of concentration and reflex. And to achieve their goal, they were up for anything – including sabotaging their training session on their new Spartan. A rocking mix where riding meets the most unexpected fumes.
For 2018, there are six complete Spartan models—four of them are full-carbon versions, ranging in price from $4,369 to $8,199 (USD). The remaining two aluminum-framed models bear $3,369 and $3,999 price tags. Devinci also offers the Spartan in frame-and-rear shock packages. A carbon Spartan frame runs $2,999. The aluminum frame sells for a grand less, at $1,999. The Spartan Carbon X01|Turbine R30 model shown here sits second-from-the-top in the 2018 line up. The top-tier model is nearly identical, save for a carbon wheelset that'll mug your bank account of an additional $1,200.
Frame Design
Devinci has long been a proponent of the Split Pivot design and that remains the case with the latest Spartan. This new version, however, features an updated suspension layout that includes a vertical shock mount. It seems like a minor detail, but Devinci insists that it actually helped them reduce frame flex by allowing for higher seatstays, a more open rear triangle and improved lateral stiffness. Devinci claims that their new suspension layout and link also better isolate the rear shock from side loads than the previous configuration, which should help extend the RockShox's lifespan. Last but not least, the vertical shock configuration also opened up real estate within the front triangle, allowing you to squeeze a full-sized (24-ounce) water bottle in there.
Devinci opted to equip the Spartan with a metric-flavored springy bit. Going with a trunnion-mounted RockShox Super Deluxe RC3 helped the company lower the bike's standover height a bit as well…always a good thing. Speaking of shocks, the Spartan frame also plays nice with coil-sprung shocks.
If you look a bit closer, you might notice that the new carbon-framed Spartan now boasts carbon chainstays (its ancestor sported aluminum stays). Devinci says that going carbon on the chainstays lopped 160 grams from the frame. There's another 150 grams of weight-saving frame tweaks in play here as well. Bottom line: the new carbon Spartan frame weighs a respectable 7.14 pounds (3,240 grams).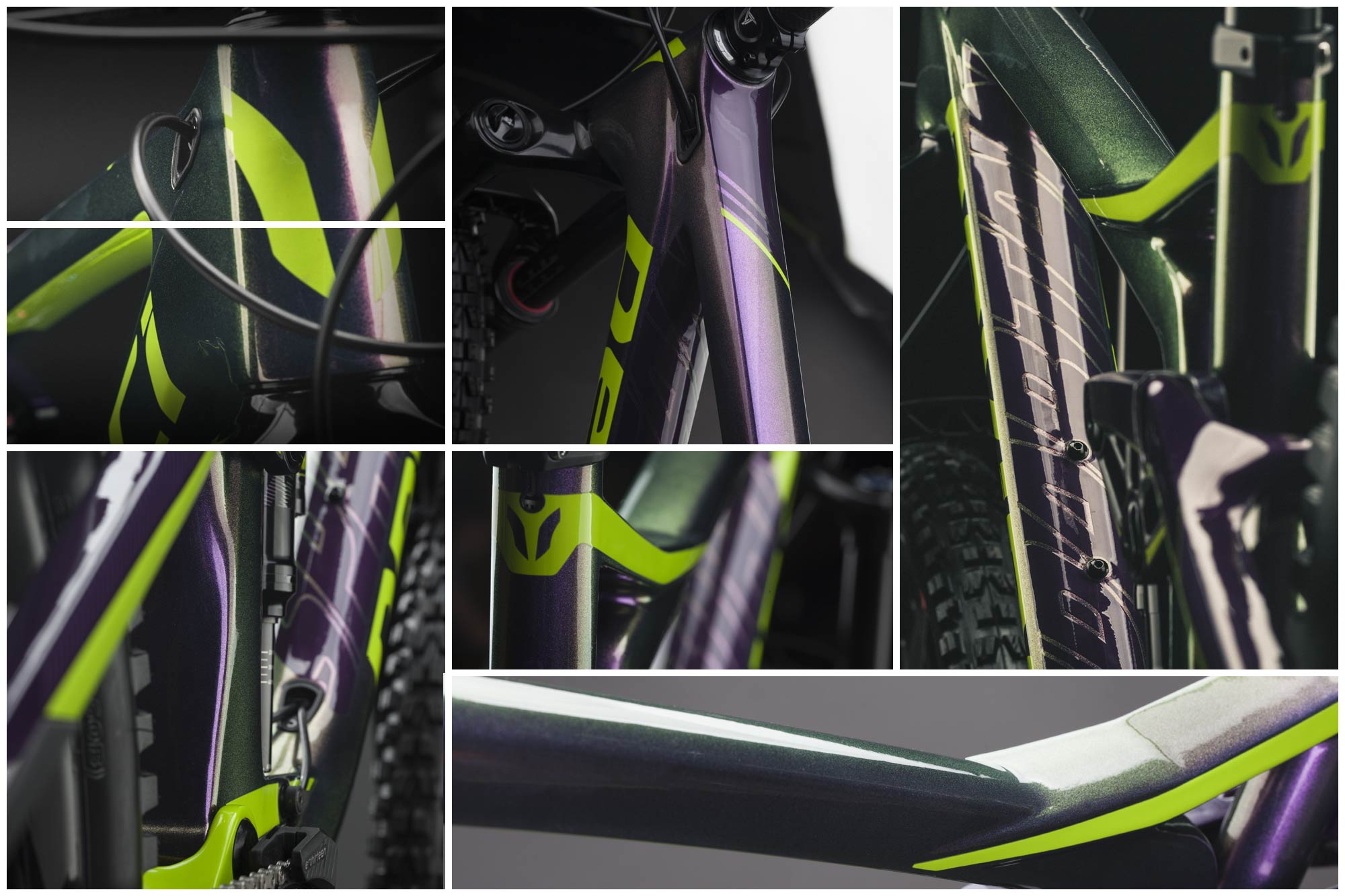 In keeping with the times, the new Spartan rocks Boost front and rear ends. You might have expected the company to increase the rear travel a bit, but it stays the same at 165 millimeters. The company did bump front travel slightly to 170 millimeters—not a huge change, but one the company thinks gives the bike a more balanced feel. There are plenty of subtle, but noteworthy changes to the Spartan frame. A lower seat mast, for instance, makes medium, large and x-large Spartan frames compatible with 170-millimeter dropper posts. Similarly, there's now enough room between the chainstays to squeeze in a set of 27.5x2.6-inch tires. If the stock 34-tooth chainring doesn't provide you with high enough gearing, you can now run up to a 36-tooth chainring on the Spartan. Finally, if you want to go the Di2 route, the Spartan now makes that easy with a big ol' hatch on the downtube that's perfect for mounting a Di2 battery. Not into electronic shifting? Well, that big hatch also makes routing cables a lot easier. Win-win.
I've written "longer, lower and slacker" so many times over the past couple years that it makes me kind of nauseous, but…yeah, here we go again. Devinci grew the reach on the Spartan 31 to 33 millimeters (depending on the Flip Chip setting), slackened the head angle about a degree and shortened the rear center by a couple millimeters. Overall wheelbase on a size large grew 40 millimeters (the slacker head angle and longer front-center are responsible for that).
Devinci's Split Pivot bikes have long had Flip Chip geometry adjusters, but, in truth, I've always set them to the slacker position and never fiddled with them again. This time around, however, you might actually set the Spartan in the "High" position—at least that's true if you're looking to use the Spartan as something other than a dedicated park bike or shuttle beast. The bottom bracket on this thing is fairly low (337mm/13.2 inches in the Low setting) and pedal strikes are going to be a thing, even for people who aren't pedaling like goons through the rough. In the High setting, the new Spartan's head angle is a still-fairly-relaxed 65.4 degrees, so it's not as if you are turning it all kinds of twitchy if you opt for the High setting. Of course, if you are going to reserve your rides to the pure-downhill variety, you'll be happy with this thing in Low. In other words, you have options here. If you're pining for more numbers, there's a handy-dandy chart directly below.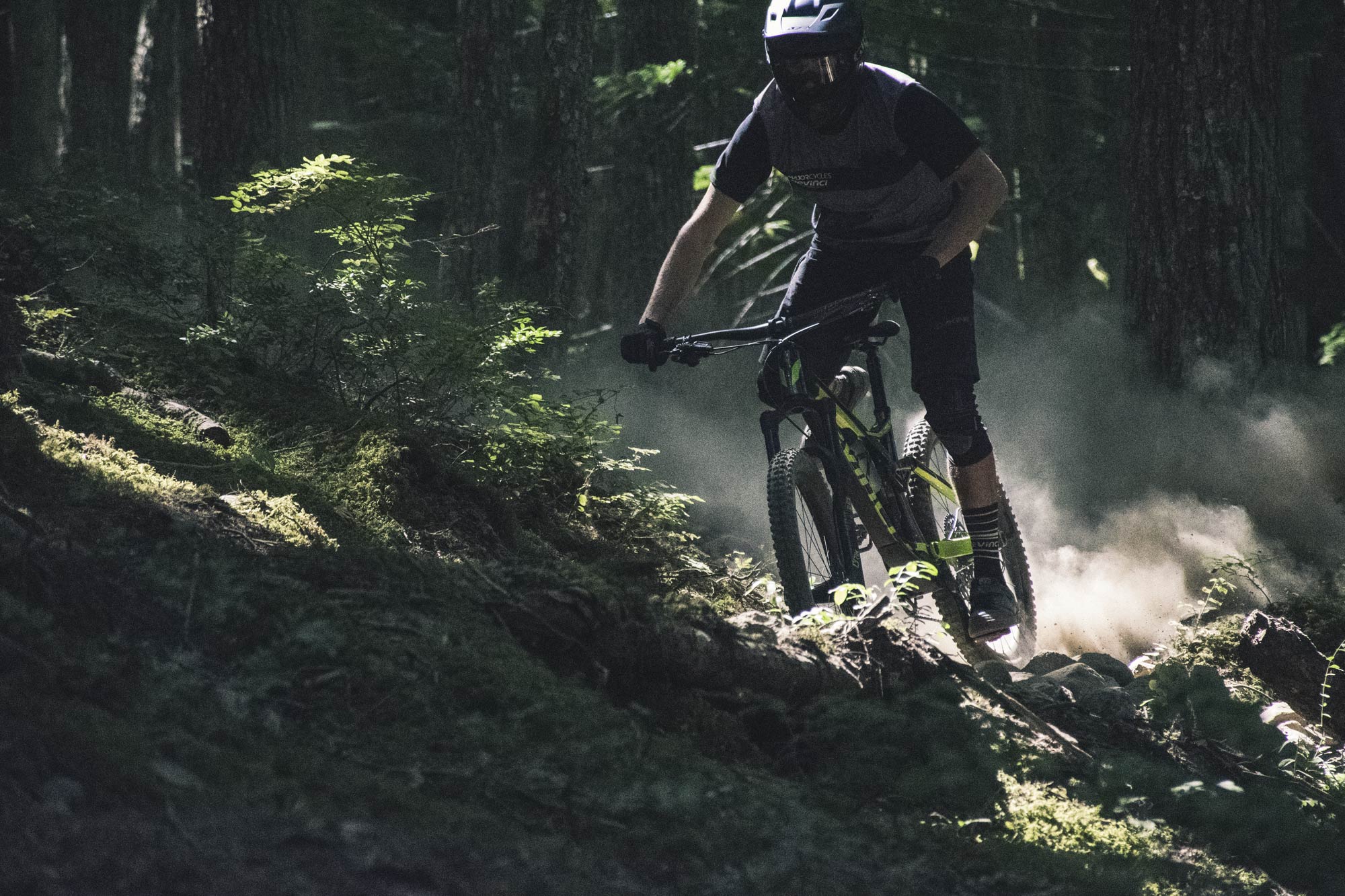 Rear Shock
ROCKSHOX SUPER DELUXE RC3 DB 205X65
Fork
ROCKSHOX LYRIK RCT3 27.5 BOOST 110 SOLO AIR 170MM
Headset
FSA ORBIT 1.5 ZERO STACK
Cassette
SRAM X01 EAGLE 12S
Crankarms
SRAM X01 EAGLE 34T BOOST 148
Chainguide
E13 TRS RACE SL CARBON ISCG05
Rear Derailleur
SRAM X01 EAGLE 12S
Shifter Pods
SRAM X01 EAGLE 12S
Handlebar
RACE FACE NEXT R 35 20MM RISE 800MM
Stem
RACE FACE TURBINE 35*50MM
Grips
DEVINCI PERFORMANCE W/LOCK-ON
Wheelset
RACEFACE TURBINE R30
Tires
MAXXIS MINION DHF 27.5
Seatpost
ROCKSHOX REVERB STEALTH
Climbing
Okay, the Spartan is still not a mountain goat, but it proved surprisingly good on the pedaling-efficiency front, even when I was running a healthy 30 percent sag on the bike. Yes, you can overwhelm the low-speed compression damping if you are dancing on the pedals and climbing out of the saddle, but on seated climbs the Spartan gains elevation pretty damn quickly. The bike's relatively light weight is a plus. Our size large tips the scales at just 29.25 pounds—that's lighter than Devinci actually claims, which is a nice change of pace from the way things generally work in the bike industry.
What's more, the bike's traction over roots and rocks is outstanding. I routinely cleaned tricky uphill sections that stymie me on plenty of other bikes that, if you just looked at the spec sheet, should be better climbers. Of course, if your uphills are dotted with incredibly tight switchbacks, you'll find the long wheelbase to be a bit of a soul crusher, but that's true of so many "enduro" bikes in this age of long and slack. Setting the Super Deluxe shock in its middle, low-speed compression damping setting helps here, as it helps the bike sit a bit higher in its travel and that, in turn, gives you a slightly steeper head angle to help steer through those tight uphill turns. Since we're on the subject of angles, the Spartan rocks a fairly steep seat tube angle (74.9-degrees in the High setting), which means you spend little time squatting on the nose of your saddle and punishing your taint. Thank you, anonymous frame designer.
I realize most people who are looking at the new Spartan probably aren't considering the bike because of its uphill abilities, but it's worth noting that the new Spartan is significantly better than its predecessor and easily on par with most of its "enduro" competitors when suffer time looms ahead of you.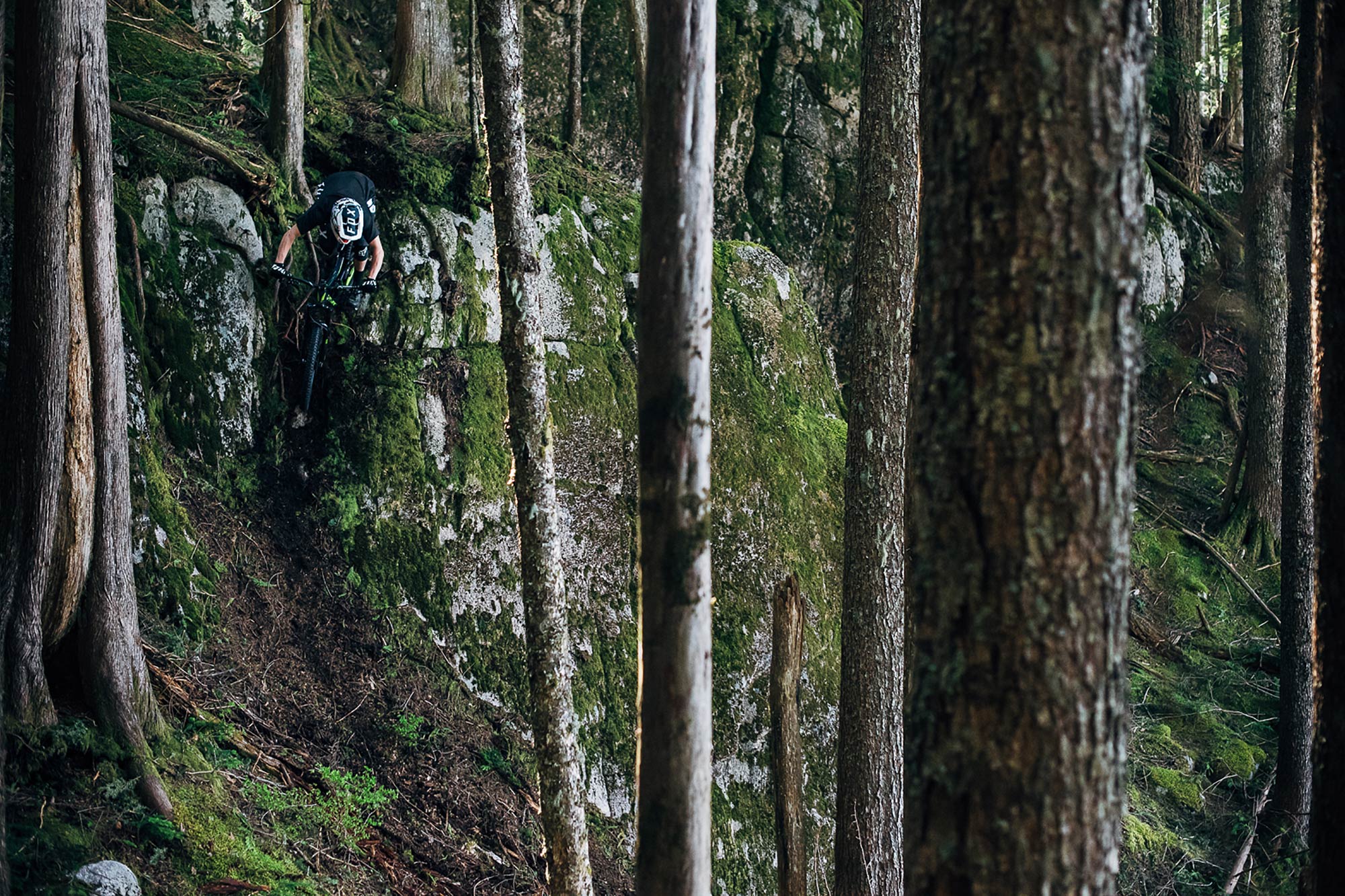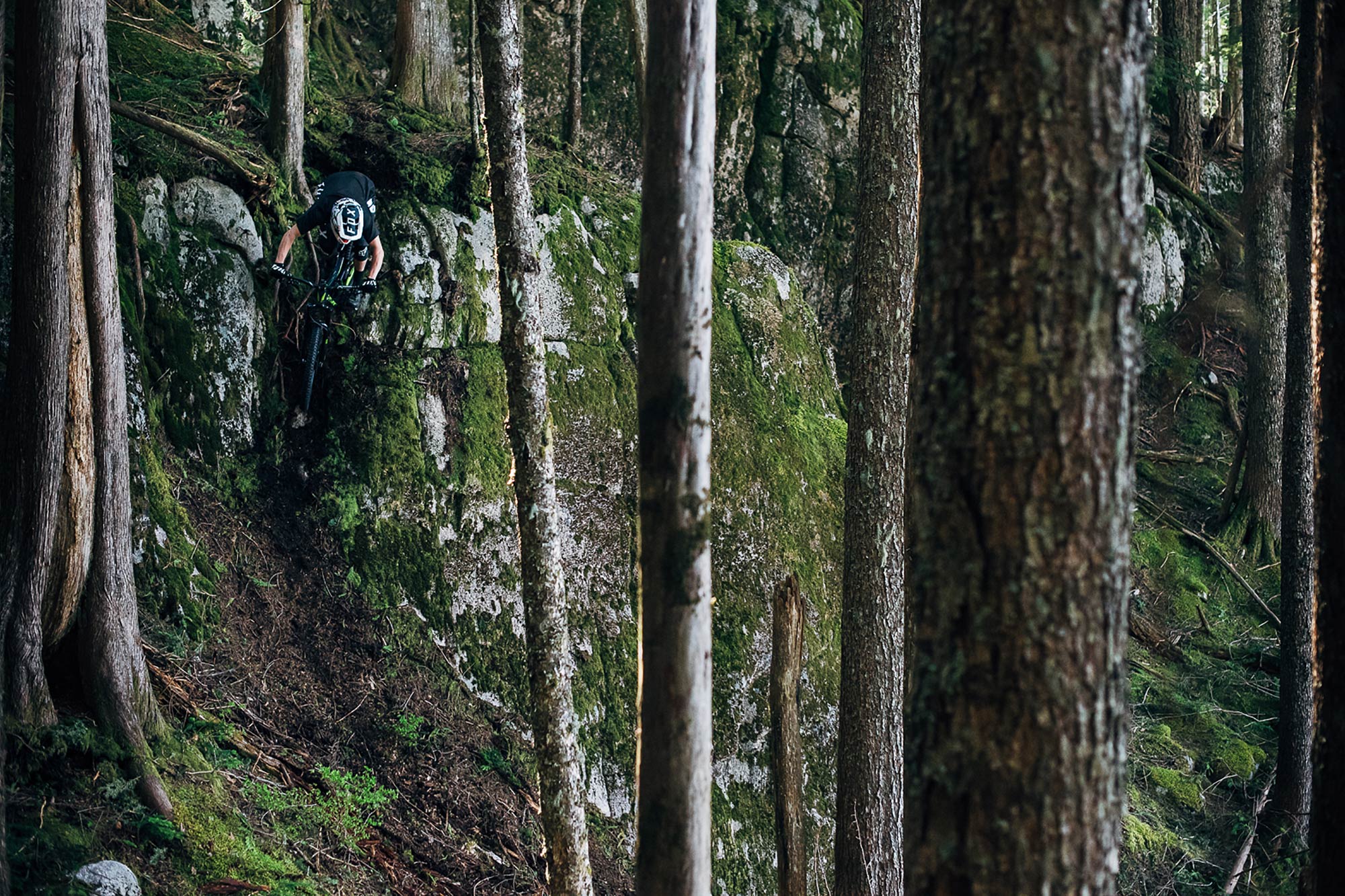 Descending
The original Spartan debuted as Stevie Smith's race rig at the 2013 DH World Championships….which sort of tells you everything you need to know about the Spartan's proclivities. The bike's strong suit was always on the downhills. The new Spartan is a better climber…and it's still an absolute bulldozer on rocky descents. Both ends of the Spartan are almost unbelievably good at obliterating whatever your wheels are passing over. Smooth, controlled, precise…the Spartan is ridiculously fun when you are blasting through the rough. The bike gives you a shitload of margin for error. The ample reach, long wheelbase and supple and absolutely dialed front and rear suspension led to much cackling whilst riding trails that normally have my sphincter clenched tighter than a snare drum.
Having said all of the above, the Spartan really wants to hug the ground. The Devinci has a very glued-to-the-trail feel to it. I spent the first month or so feeling a bit like a passenger on a very smooth and purple space ship that had been set on auto-pilot mode. The Spartan is not, in other words, a particularly "poppy" bike. If launching off every little trail feature is your gig, you're going to have to put a bit more effort and body English into your rides aboard the Spartan. Bump up the aggression and exaggerate the body movements, however, and the Spartan will happily comply.
In short, the Spartan is a fun bike—it let's you get away with a hell of a lot and it feels great doing that—but "playful" and "nimble" wouldn't be the top two adjectives I'd use to describe it. If those are two traits you're particularly fond of, and you are a fan of the Split Pivot design, this bike's 140-millimeter travel sibling, the Troy, is probably more your game; that Devinci model is quite similar, in terms of its reach and smooth, deep-feeling suspension, but also features a considerably shorter wheelbase. Primarily looking to demolish downhill records, yet you never want to rely on a shuttle vehicle or chairlift? The Spartan is your speed.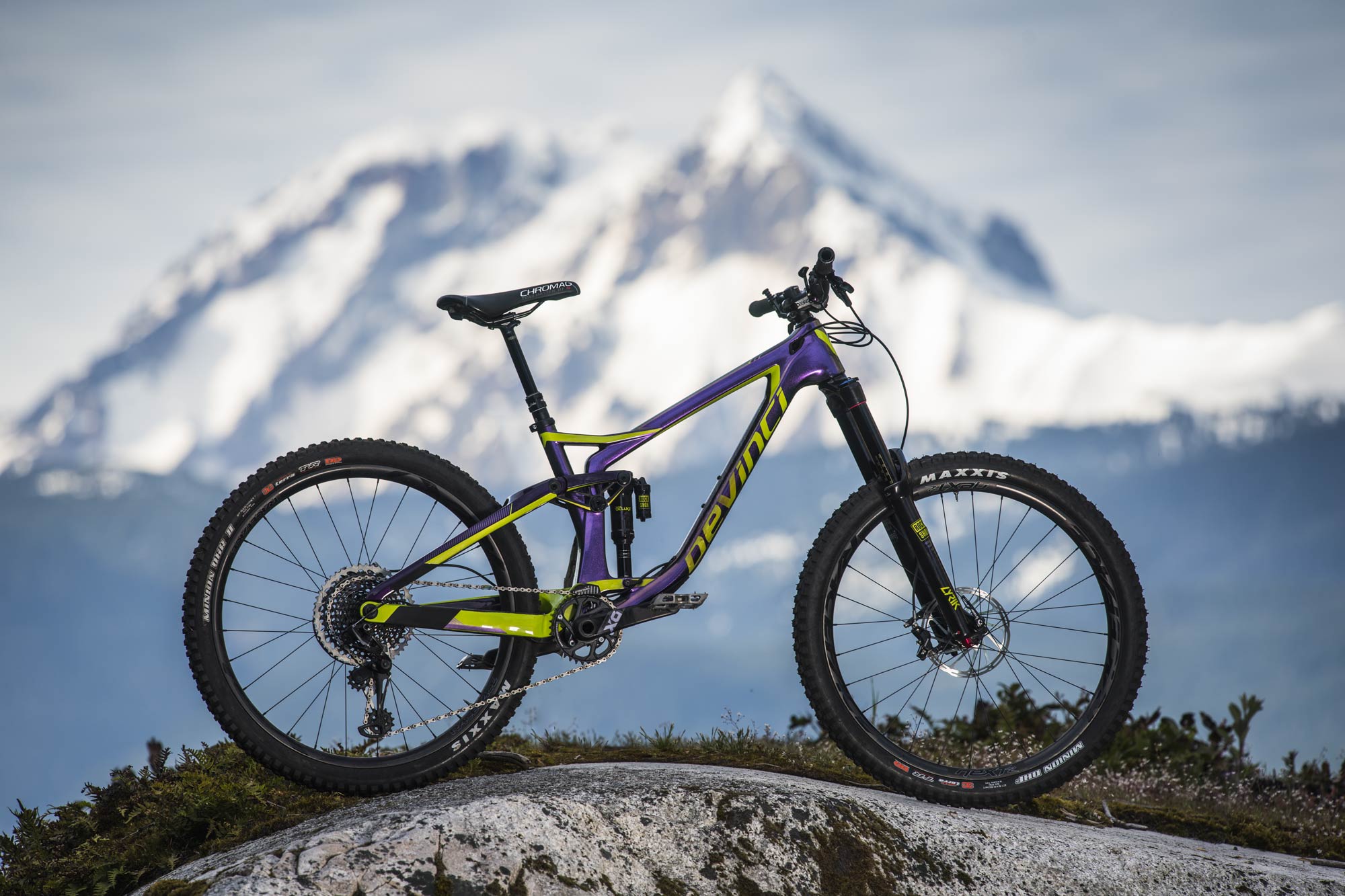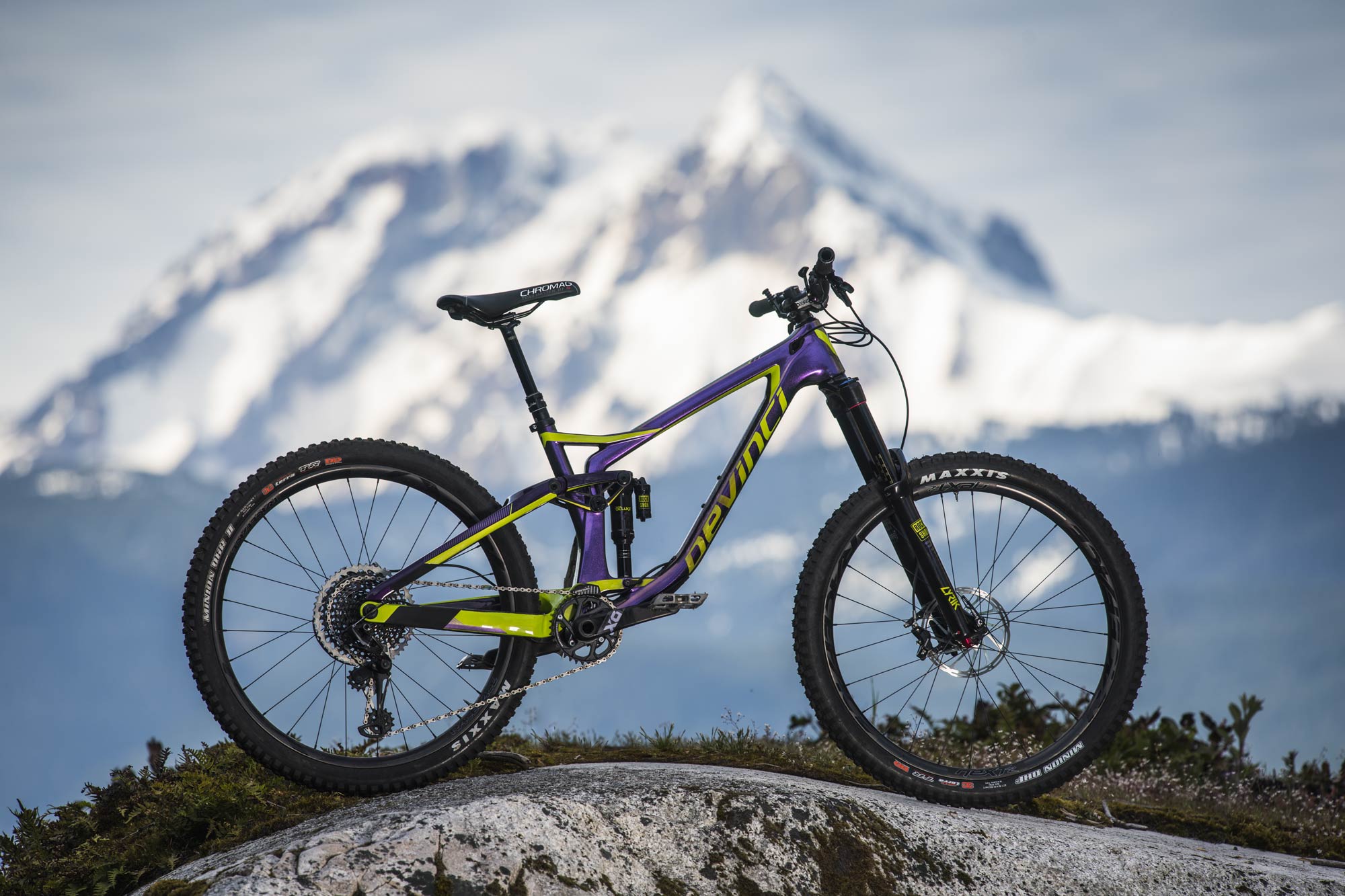 Component Check
RockShox Reverb Stealth:The Reverb was a revelation when it debuted and while this dropper post still has its strengths, I'm frustrated by the Reverb's tendency to get air trapped between the floating piston and the oil column. RockShox has attempted to fix the problem of squishy Reverb droppers over the years with several updates to the floating piston, but some posts (including this one) still suffer from the problem. It's a drag.
SRAM Guide RSC brakes:People love or hate Guides. The Guide Rs that come stock on a lot of bikes definitely leave something to be desired, but the RSC's have been consistent performers for me. While some riders (particularly in warmer climes) have had legitimate problems with swollen master cylinder pistons and stuck levers on early-production Guides, I'm still running a set of first-run Guide RSCs that have required zero bleeds or attention (other than pad swaps) after three seasons. Good power, great modulation. The RSCs on the Spartan were flawless.
RockShox Super Deluxe RC3 shock:I walk away from this review genuinely impressed by how well the trunnion-mount, metric Super Deluxe performed. I was sure I'd want to experiment with a coil, but never could find a reason to even bolt one on.
Pinkbike's Take
The latest Spartan is a marked improvement on what was already a hell of a descender. The bike is lighter, stiffer and a significantly better climber than its predecessor. Though it's not the most playful bike out there, the Spartan is ridiculously capable on the rowdiest descents. Not digging the Stryper-influenced graphics? The Spartan is also available in a stealthy black matte/gloss finish..— Vernon Felton
Devinci Spartan Carbon - Review